Lucy Williams: The Heart Of My Home
From our cave-dwelling ancestors to childhood ghost stories, the gravitational pull of a roaring fire for a sense of warmth and community is long documented, and the wood burner in our snug is no exception. To me, our blue sitting room feels like the heart of the home because it's where I go to relax, unwind and generally soothe myself as well as spending time with those I'm closest to. It's the place I look forward to coming back to when I'm travelling or in the midst of a long, work day. Many might say the kitchen or the dining table is the heart of the home, but for me, I never feel more at peace than with a great film, a board game or a book by the fire in our sitting room, be it with my husband (and our dog), friends, family or alone (with the dog), it really is my happy place.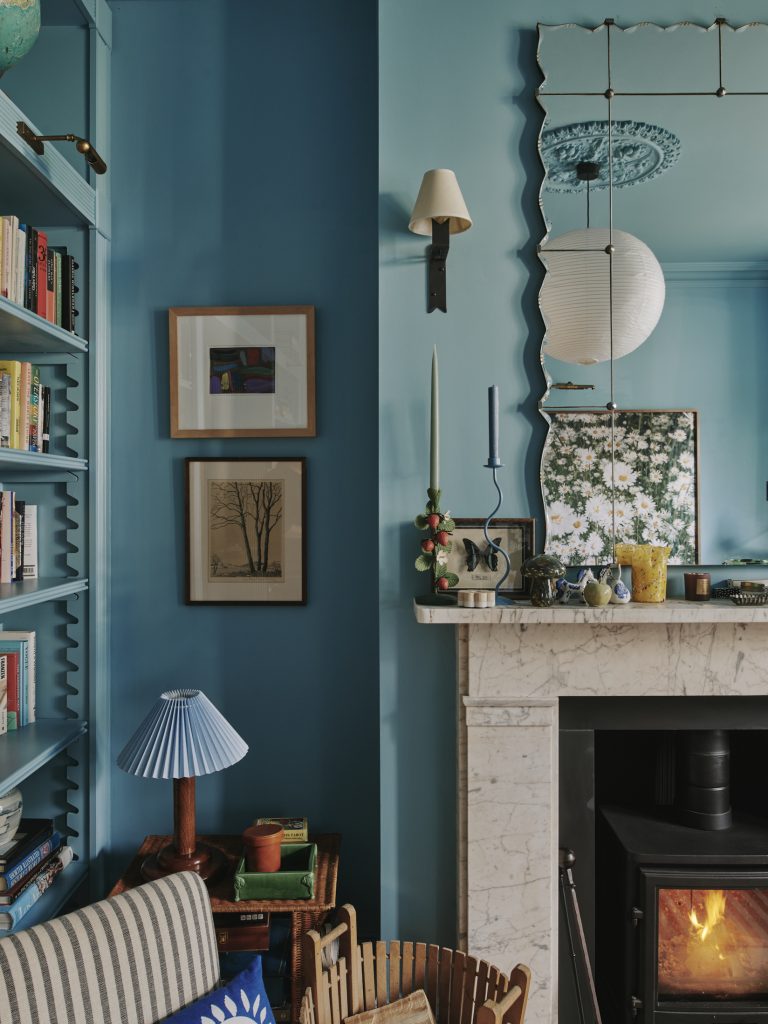 I'm an out and proud TV addict and feel zero guilt about the pleasure I take from kicking back in front of a box set on a winter's evening (bonus points if the wind and rain is howling outside). I deliberately designed this room to be as cosy and nook-like as possible. By taking the warm blue (yep, I really think that certain blues can feel enveloping) all across the ceiling and woodwork and installing floor-to-ceiling bookcases around the doorways, it has a moody library feel that lends itself perfectly to long nights and lots of flickering candles. The sliding reclaimed doors separate it from the other half of the reception room/world, making it even more hibernation-worthy. It's also filled with characterful vintage and junk shop finds for a more is more feel with lots of texture, pattern and pops of colour. This was deliberate so when the Sunday papers are strewn across the floor and there are piles of toast and half-empty mugs on the coffee table (or in our case, a vintage reupholstered hearth stool), it all just blends in rather than standing out and screaming 'MESS!' at you when you're trying to relax. I also love how vintage and antique pieces add a story-telling quality to spaces and instantly make a house feel like a home. I re-lined the chimney and installed an energy-efficient wood burner that gives the room a real focal point. I love the whole ritual of lighting a fire; it signals the start of downtime and creates such a lovely atmosphere. Before I moved in here, I used to use the Netflix 'log fire' film an embarrassing amount so I feel really lucky we get to heat our home with a real one now. Something about it helps me focus as well a relax, focus on relaxing maybe, which is always a good thing in this permanently-online, never quiet world.
The heart of the home is where everyone feels most comfortable and at ease but also where you might get to know its inhabitants the most. To me, there's no better way to get to know someone or find common ground with a new friend than by a quick glance at their bookshelves (or, if extra nosy, their recently-watched list) or over a competitive game of gin rummy. I love inviting people in here for a cup of tea by the fire or a glass of wine before dinner and them gushing over how much they loved a book that I too devoured or choosing a film together and debating the various highs and lows of 1990s Rom Coms. Laughing across the dinner table is amazing, but it's facing the fire on the sofa where I feel most at home and most myself.
Feeling inspired?
Explore the website to find characterful pre-owned pieces to add to your space
SHOP NOW